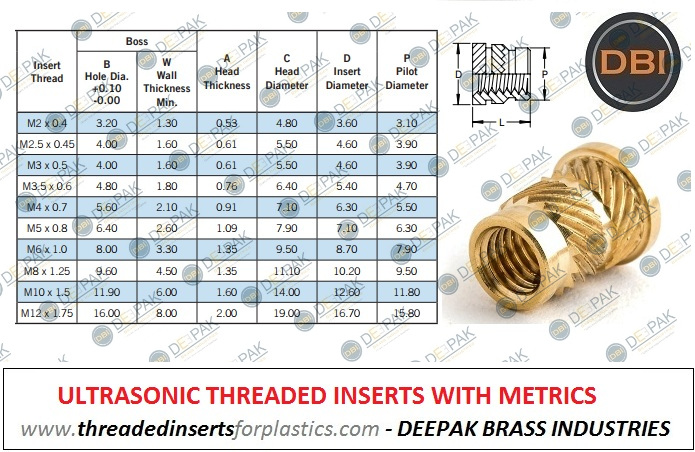 Deepak Brass Industries manufactures Ultrasonic brass inserts designed for ultrasonic or heat installation into thermoplastics and structural foam materials. The external configuration features parallel diagonal knurls for optimum torque resistance and undercuts for superior tensile strength.
A flange provides positive pressure to the molten plastic, assuring complete filling of the knurls and undercuts for high assembly strength. The tapered design allows for rapid and accurate positioning of the insert prior to installation. Two lengths to choose from for increased design flexibility.
Ultrasonic Inserts or Heat Inserts are classified as
Ultrasonic Inserts with Head
Ultrasonic Locking Style Inserts
Ultrasonic Locking Style Inserts with Head
Ultrasonic Double End Inserts
Ultrasonic Tapered Inserts
Ultrasonic Straight Inserts


Diagonal knurls and undercuts provide superior assembly strength. Excellent design for automated systems

For post moulding into thermoplastic materials these ultrasonic inserts provide strong wear-resistant threads.

Some thermoplastics, like polycarbonates and structural foams, are brittle – especially in thin-wall applications. Designed for straight holes using ultrasonic or thermal processes, our threaded inserts for plastic add considerable strength. They are our most popular brass inserts, offering the most overall length choices.

Our Thr eaded inserts feature two opposing bands of sharp diagonal knurls, providing high tensile pull-out load carrying capability. Little or no stress is applied to the walls of the molded holes. A lead-in pilot diameter assures true perpendicular alignment.

Three Types of Knurling are available Straight, Hexagonal or Cross, Diamond Knurling as per design Criteria.

Material : Brass, Stainless Steel & Aluminium.

Available : In a wide variety of thread sizes, stud lengths and options.