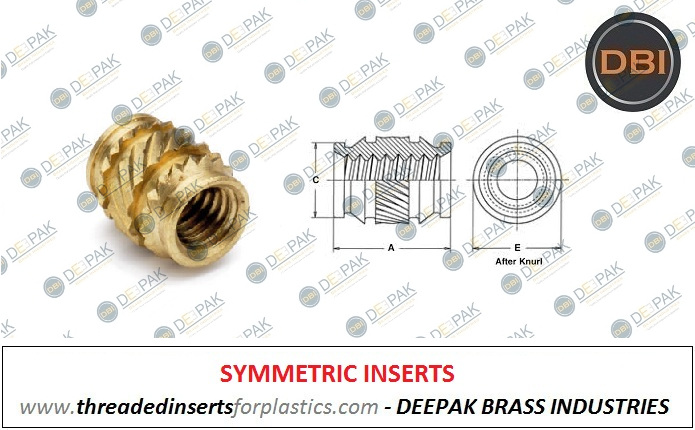 Deepak Brass Symmetrical threaded inserts for plastic can be installed either end first for faster installation (using ultrasonic or thermal equipment) and lower costs.


By decreasing outward hoop stress, symmetrical threaded inserts decrease cycle times. Their proportionally engineered design ensures that the displaced material is encapsulated by knurls and undercuts. They are designed for straight hole applications and are ideal for thin-wall applications because little stress is applied to the walls of the part.

Heat-installed inserts for use in stress-sensitive materials Symmetrical brass insert designed for high-volume production. No orientation required Inserts can be installed ultrasonically, with heat, or molded in. Double-ended design eliminates orientation of the insert and simplifies insert feeding in automated assembly processes. External configuration features opposing diagonal knurls that provide torque resistance and undercuts for tensile strength.
Lead-in pilots provide rapid and accurate positioning of the insert prior to installation.

Material : Brass, Stainless Steel & Aluminium.

Available : In a wide variety of thread sizes, stud lengths and options.